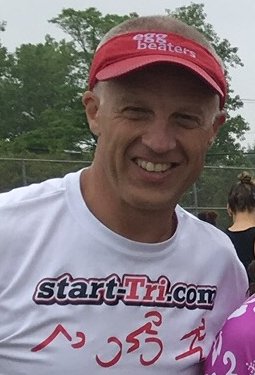 USAT Coach and Start-Tri founder, Mickey Cassu has over 30 years of experience competing in, and coaching athletes for Endurance Sports. With multiple Ironman finishes himself and many more for his athletes, Coach Mickey offers coaching experience in running, swimming, cycling, triathlon, endurance sports, and nutrition. In addition to this, Mickey has extensive experience working with high school and college athletes…the racers of the future. 
With coach and Ironman finisher, Kristin Cacicedo, Start-Tri offers a wealth of experience in all aspects of the sport. Does a coach have to race in order to be a good coach? Of course not, but having coaches who are competitive athletes definitely has its advantages. Together Mickey and Kristin have completed over 300 races and have the first-hand experience of all race distances from short sprints to marathons to the full Ironman.
Everyone's time is valuable and we know that you come to Start-Tri with a purpose, goal, and certain expectations. Our responsibility as coaches is to do our best to equip you with all the tools you'll need to create, reach, and maintain those goals as effectively and safely as possible. Whether you're a complete beginner or a seasoned racer, Start-Tri tailors your coaching plan to account for all of your strengths and weaknesses and meet your triathlon goals.
Contact us:
[email protected] | 908-256-1738
[email protected]