If you've ever competed in Lake Placid Ironman or Half Ironman, you've already been past our camp location.  Located on River Road near mile 4/6/18/20 of the run course, we are ideally suited for highly focused Half-Ironman/Ironman training.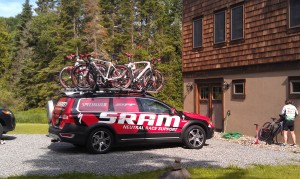 We differ from other camps in that we offer a full-board, complete immersion experience.  You sleep, eat, train and receive structured presentations and  support throughout your time at the camp.  We've been coming to Lake Placid since 2000 and have in-depth experience of the race and preparation for it.  Coach Mickey is a multiple IMLP finisher and USAT certified coach and has over 250 total races under his belt.  We're knowledgeable of the surrounding area and know many challenging, extremely scenic training routes in addition to the IMLP course.  Having run the camps since 2006, we are in our eighteenth year and have many positive comments regarding the format/structure of camp. To date, our trained athletes have completed their Ironman journey successfully!!! Our campers have had 100% success rate!!!
Camp headquarters is an Adirondack style house located directly on the AuSable River. Exit the drive and you're on the run course, ride in either direction and you're on Rt73 or Rt86 sections of the bike course. A 10 minute drive brings you to Mirror Lake.
A typical camp schedule is:
Thursday
7:00PM
Check-in/Optional Swim
8:30PM
Welcome, Introductions and Pizza Dinner
8:30PM
Presentations on and about IMUSA course (and others)
Bike Basics-Mechanical
Friday
7:00-8:00AM
Breakfast at Camp Cassu
8:30AM-1:00PM
Bike training session:3 hour bike
Multiple training groups based on pace. Lunch on fly
2-4:00PM
Mirror Lake swim session/Free
6:30PM
Dinner at Camp Cassu
Saturday
6:30-7:30AM
Breakfast at Camp Cassu
7:30AM
Coordination for day's events
7:30AM-3:00PM
Brick training session:3-6 hour bike followed by 30-60min run.
Multiple training groups based on pace. Lunch on fly
6:30PM
Dinner at Camp Cassu/Discussion
Sunday
7:00AM
Breakfast at Camp Cassu
8:30AM
Run of 60-180 mins. Multiple groups based on pace
12:00
Close of camp
For information on the next camp dates and the cost of participation email Coach Mickey: [email protected] or call 908-256-1738
Cancellation policy – because sh%t happens – Cancellations 30 days or more prior to the camp will be refunded by 50% of the registration fee. No refunds for cancellations less than 30 days. No transfers. No exceptions.
The house is also available to rent during certain weekends in the year. If you'd like to learn more about rentals and see more photos of the house please email [email protected] or call 908-256-1738